We ARE Life Energy Medicine
We research, develop and sell products which combine homeopathics, color and sound remedies, potentized amino acids and vitamins. We are professionally trained and proficient in homeopathy as well as Life Energy Medicine, which we have developed over years of collaboration. We strive for excellence in addressing the physical, emotional and environmental imbalances that affect health and wellness. You will find our work is suited to people of all ages, with a wide variety of health conditions.
Our work is soulful, deep and true. We base Life Energy Medicine on an understanding of the Human Energy System, known as chakras and take homeopathy to the next level of utilizing and working with energy medicine. Through our classes we teach this unique model of healing and have made it easy for anyone wishing to learn through self-paced recorded lessons. Or join us in one of our live teleconference courses. We have a 3 year certification course in Life Energy Healing.
We calibrate the consciousness of our work using Consciousness Calibration techniques developed by Dr. Hawkins, author of Power vs Force. We believe we are all capable of regeneration, at every level and have been privileged to see our products work for our clients.
Ambika Wauters, RS.HOM(NA)
Ambika Wauters created The Institute of Life Energy Medicine in 2001. She combined her healing gifts with books, products and classes to offer a comprehensive understanding of energy healing. She thrives in the world of energy, and her understanding of the archetypes of empowerment, energy and responsibility make her an exceptional practitioner and therapist. Her books, CHAKRAS AND ARCHETYPES  and THE HOMEOPATHIC BIBLE  make her a leader in her field.  She brings her sensitivity and awareness to her products, classes and consultations. Her focus is in supporting healing, creating a foundation for making  wise choices, cultivating joy and enjoying prosperity.
Ambika's tools for healing are homeopathy to balance the physical and emotional bodies, color and sound remedies to stimulate the chakras and affirmations and prayer to ignite  spiritual connectedness with the Divine. Her work opens channels for healing, creativity and happiness to manifest directly from the soul forces wishing to be expressed in each person.
Ambika looks to eliminate addictions to drama, strife, conflict and catastrophe that block the channels for the soul to heal in this earthly life. Her work encourages each person to be willing to take responsibility for their life, and find ways to achieve happiness, health, sexuality and creativity.
Her work goes beyond the physical realm of dysfunction and illness to cultivating spiritual enrichment and healing at a  high level. Ambika has practiced healing, homeopathy, archetypal transformation and spiritual development for nearly fifty years. She is wise, connected and grounded in her approach to healing.
She trained in the UK where she received a diploma in homeopathic medicine. She is a former member of the Society of Homeopaths in the UK and USA. She holds a BA in History from UCLA 1966, a MFA from The Royal College of Art, London 1972, and her Diploma in Homeopathic Medicine from Th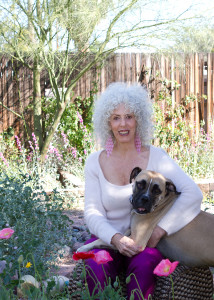 e School of Homeopathic Medicine, North Yorkshire 1995.
Ambika taught homeopathy at the Cranfield School of Business Management, UK, to business people for stress management who did long haul travel. She presented lectures at the Society of Homeopaths in the UK about her color and sound formulas and consulted for Visa International, Piatkus Publishing and the John Lewis Partnership in the UK. She was principal of The School of Spiritual Homeopathy in Chicago and Tucson and has contributed to both national and international homeopathic journals.
Enjoy a stimulating conversation between Ambika and Angelolgist- Kermie Wohlenhaus, Ph.D., ATP, about Ambika's  books, chakras and life energy:
Ambika demonstrates a chakra healing massage on line and how to dowse the chakras. https://www.youtube.com/watch?v=KNdM2FKiE5A
Her  twenty three books on chakras, homeopathy, and the realm of angels open the mind and heart to growth, healing and regeneration.  Her book, THE ANGEL ORACLE, has sold over one million copies world wide. THE ANGELIC YEAR won Center for the Book's 2001 Book of the Year award. Several of her books have sold over 100,000 copies.
You can see her books, all linked to Amazon.com, on the "book" link above. Ambika's beautiful angel art can also be viewed online. Her work is for sale and will soon appear in book form. Check the "Events" section for when she will be teaching again.
Vonette Thorner, DHom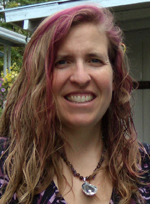 Vonette Thorner DHom graduated in 1993 with a degree in Graphic Design and worked as a designer for 2 years until she met her husband. Together they ran a business providing technical theatre services to the Portland, Oregon area. Two years later they were both hired to work for an entertainment lighting company where Vonette soon became manufacturing manager. In 2000, her 1st child was born and she became enthralled with birthing and midwifery. This path took her through doula training and while still working full time she began her doula services. After the birth of their second child, she was introduced to homeopathy. She became so passionate about homeopathy that she attended the Texas Institute for Homeopathy for 4 years and received a Degree in Homeopathy in 2009.
In 2007, she quit the manufacturing industry to take over managing the homeopathic book division for Whole Health Now. She became acquainted with Ambika while at a LIGA conference in 2010. Later that year, Vonette was collaborating with Dr. Richard Collier, a brilliant Doctor of Optometry who used color therapy and remedies in his practice and her interest in color remedies brought her back to the source, Ambika. Finding similar interests and passions, a partnership was quickly formed and they have been developing and running trials on homeopathic formulas since 2011.
Now a busy mother of 3, she focuses on family health and wellness with homeopathy. She also trains in Tang Soo Do and will test for black belt soon.